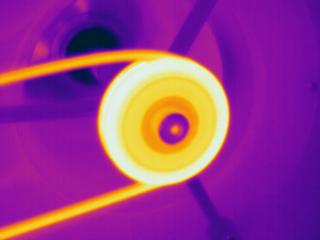 In all plants there are diverse collections of equipment that can be successfully inspected using Infrared/thermal imaging Thermography. City Line Infrared predictive maintenance programs can assist your plant in achieving a significant decrease in downtime of your machinery. Infrared/thermal imaging inspections have proven to be a very effective tool in identifying potential problems with boiler equipment, HVAC units, refrigeration equipment, mechanical bearings and motors, to name a few.
Motors
Over time all motors tend to heat up as they wear.
Using a City Line Infrared inspections at regular intervals will enable you to trend the condition of your motors and predict their failure, allowing for planned replacement rather than a break down during main operations.
Mechanical Bearing
All bearings have a life span which varies with use, speed and environment. As bearings wear out they create more friction and become hotter.  Over/under lubrication of bearings will also show up as heat.
City Line Infrared inspections will help you predict when and which bearings to replace. Why replace all the bearings at significant cost of a conveyer belt system when only a few need to be changed. With Infrared/thermal imaging you can see quickly and easily which bearings are affected.
Common faults found:
– Over temperature – motors
– Misalignment of coupled equipment
– Over/under tension of belted systems
– Excessive friction
– Defective equipment
– Bearings worn out