Archive for the 'buying and selling info' Category
1 – Make sure the house is light and bright

Having a dark home can be a major negative factor for prospective buyers.
2 – Be sure to remove any clutter
Creating space is also very important from a  presentation aspect.
3 – Use a proven professional photographer for the property photos
It has been proven time and time again that good photos generate interest in a home and so more buyers to a property.
4 – Use proven agents that have a good track record in your area
This will help in the professional approach to selling your home.
5 – Rearrange Bedroom Closets and Kitchen Cabinets
Buyers love to snoop and will open closet and cabinet doors. Think of the message it sends to them if items fall out! Now, imagine what a buyer believes about you if they see everything organized. It says you probably take good care of the rest of the house as well.
6 – De-Personalize your home
Pack up those personal photographs and family heirlooms. Buyers can't see past personal artifacts, and you don't want them to be distracted. You want buyers to imagine their own photos on the walls, and they can't do that if yours are there!
7 – Make Minor Repairs
– Repair cracks in the cladding
– Replace cracked floor or counter tiles
– Patch holes in walls
– Fix leaky taps
– Fix doors that don't close properly and kitchen drawers that jam
– Consider painting your walls neutral colors, especially if you have grown accustomed to purple or pink walls
– Replace burned-out light bulbs
8 – Make the House Sparkle!
-Wash windows inside and out
-Pressure wash exterior cladding and paths
-Clean out cobwebs
-Re-caulk baths, showers and sinks
-Polish chrome faucets and mirrors
-Clean out the refrigerator
-Vacuum daily
-Dust furniture, ceiling fan blades and light fixtures
-Bleach grout
-Replace worn rugs
-Hang up fresh towels
-Clean and air out any musty smelling areas. Odors are a no-no
9 – Get an independent valuation
Having a registerered valuation does not only give you an assessment of what the property should be listed at, but it also gives you an  independent assessment.
10 – Have

City Line Infrared

Undertake an Infrared Pre Sale Inspection
These days there is a stigma around buying a home with monolithic cladding, as it could be a leaky home.
Undertaking a Thermal Imaging Infrared inspection will give people at the open home piece of mind, that an inspection has been done, and a report written to confirm that there are no moisture problems in the home. This will then allow them to take it to the next level and hopefully make an offer.
1 –  Have
City Line Infrared

undertake an a full infrared pre purchase building inspection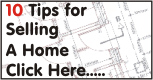 When you have found your dream home make sure you get an Infrared moisture inspection, so you know you are not buying a leaky home. If the house is a leaky home it may cost hundreds of thousands to fix. This could wipe out your saving for the last ten years. It's a small cost to pay compared to the cost of leaky home repairs. We at City Line Infrared can undertake a full infrared pre purchase building inspection to check the condition of the house.
2 – Know How Much You Can Afford
Setting your heart on a beautiful five-bedroom, three-and-a-half-bathroom estate on the hill could set you up for disappointment if you don't know what you can afford. Make a budget and find out how much you can pay a month, make sure you add in any maintenance/repair costs need that was highlighted in the building report.
3 – Prioritize Your Needs and Wants
When working within a budget, sometimes you have to make some compromises. Knowing what you really need can help narrow your home options and also make decisions easier when it comes to making an offer. Create a checklist of your needs and wants. Don't forget to include things that aren't actually a part of the house, but important, such as the neighbourhood, commute, school system and even proximity to entertainment
4 – Explore Mortgage Options
Think about your long-term plan when you're exploring your mortgage options. You might be someone who never plans to buy another home, so maybe you're more interested in a 30-year, fixed-rate mortgage. However, another couple might look at this home as a starter property that they only want to own until their second child is born. They might want an adjustable rate mortgage. Shopping around for a mortgage is also a good idea.
5 – Get Pre-approved for a Loan
Pre-approval will help you to understand how much you can expect to borrow from your lender. Knowing your spending range can help to narrow your home search to properties within your price range. It can also give sellers a little more confidence in your seriousness when making an offer
6 – Understand the Offer Process
While there's no way to know exactly what type of offer the seller will accept, when making your offer you should take into account several things. Knowing how long the house has been on the market, the asking price's position related to comparable properties in the area, and even the number of available comparable properties in the neighborhood can make a difference. Realize that negotiation is usually inevitable, so be sure to leave a little leeway within that first offer. Make sure that your offer includes contingencies such as financing costs, lawyer fees and infrared moisture and building inspections. You don't want to be bound to purchase a home if you don't have enough money or that it turns out to be a leaky home.
7 – Understand What You're Signing
You're in the home stretch. Only a few papers stand between you and getting the keys to your first home. But don't get carried away. You may want to request a lawyer be sent a draft copy of any documents to preview before the actual signing takes place. This will take away some of those emotional jitters and also allow you a bit more time to make sense of what you're signing. Don't be shy — if you don't understand something, then ask the professionals to explain it further.
8 – Check the Neighbours out.
You are going to be living there, make sure the people next to you are people want to live next to. Neighbours can make your life hell. Come back to the property at different times during the day and night to see if there are any big parties or other activities that may affect the way you live your life.
9 – Order a LIM
A Land Information Memorandum is a report available from the Council upon request, which provides information from our records on a property and its land. Anyone may apply for a LIM and it's a good idea to do so if you're planning on purchasing a property. A LIM may assist you in determining if a property has any restrictions or whether your intended use of the land is feasible.
10 – Get the property valued
This will take out the emotional part of buying a house. You will have an independent idea of what the house is worth and if you are paying to much. Don't let your emotions get the best of you at an auction and allow you to pay to much. Know what you will bid to and stick to it. There are always other houses out there.